Liben Commercial 3D Trampoline Park with Ninja Course, Foam pit, Roller glider
After 8 years persistent efforts by 200 stuff, Liben has built 800+ trampoline parks in 68 countries , total area is over 180,000sqm. Liben trampoline parks were all over the 7 continents except Antarctica, what a pity for Emperor Penguin.
Product Description
Materials and Parts of Trampoline Park
Metal Parts(Tubes)
Galvanized steel pipes with anti-rust spray,specification 80*80mm,
2.5mm thickness
Trampoline Mats
Imported from professional supplier, strength of 1 layer equal with 2 layers in market.Good glossiness, anti-UV.
Gymnastic Trampoline Mat
Olympic jumping mat:made of Polyamide yarns and specially prepared for professionals
Foam Pad
EPE, waterproof closed-cell foam, not easy to lose shape.

Soft Padding
0.46mm PVC + 70mm EPE, anti-water and anti-mildew.
Springs
Super high-strength galvanized spring for Standard or Imported Piano Wire
Safety nets
High strength polyester
Installation
1.Professional and useful CAD instruction and assembly procedure.
2.Can provide the professional oversea assembly engineers(need extra charge)
Size & Color
Customized
Player Age
More than 3 years old
Functions
Dodgeball, Free Jumping, Professional Trampoline, Run Wall, Basketball, Ninja Course,Sky Climbing,Ropes Course
Apply to
Amusement park, kindergarten, school, park, residential area, shopping mall, supermarket,indoor playground etc.
Certificates
ASTM, CE, ISO9001, ISO14001, OHSAS18001, TUV-GS, SGS.
Packing
Cotton packed inside and PP film coated.
Warranty
5 years on metal frame, 3 years on spring, 1 year on others.
Remarks
We can design as your requirements.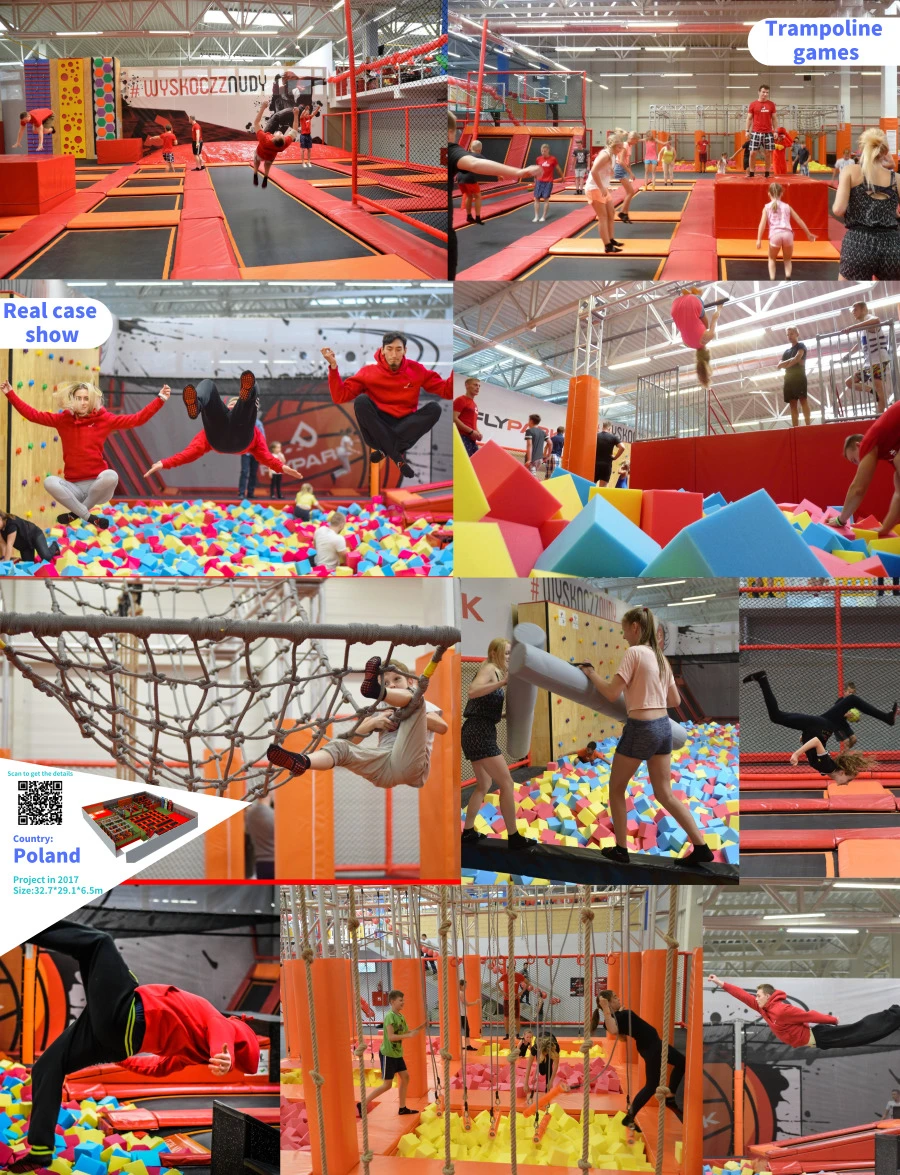 Trampoline Benefits:
1) Efficient Exercise:
Studies have shown that jumping for 10 minutes on a trampoline is equivalent to a 30 minute run. According to NASA, jumping is 68% more efficient than running.
2) Cardiovascular Fitness:
Because jumping is a moderate-to-high level aerobic workout, it will increase your heart rate to a healthy level.
3) Interval Training:
Jumping on a trampoline allows for interval training so your workout is varied and you can increase your workout time.
4) Stronger Bones:
The repetitive action of jumping improves bone mineral content and builds the musculoskeletal system. Each landing from a jump is double the force of gravity, which develops muscle strength over time and prevents bone diseases such as osteoporosis.
5) Detoxifying:
Bouncing on a trampoline stimulates the free-flowing lymphatic drainage system, helping rid your body of toxins, trapped protein, bacteria, viruses and other cell waste. The acceleration, deceleration and gravity of jumping on a trampoline create the ideal conditions for cleansing waste materials from our cells.
6) Mental Health:
Physical activity makes you feel happy, positive and self-confident. Endorphins, the positive mood enhancing chemicals released during exercise, are triggered when jumping. An added benefit is the sheer fun factor of jumping up and down.
We firmly believe that the Trampoline Park is a new trend all over the world.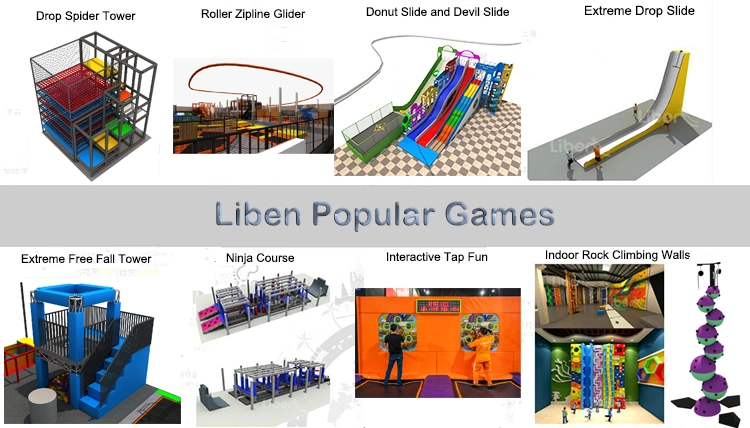 Production Process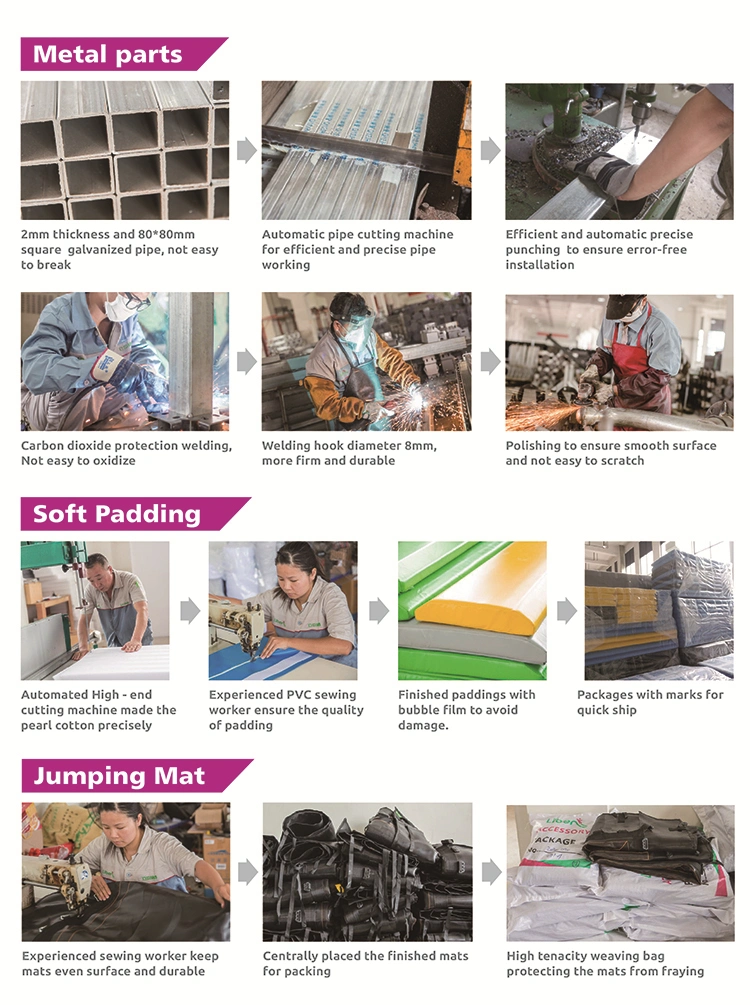 Certifications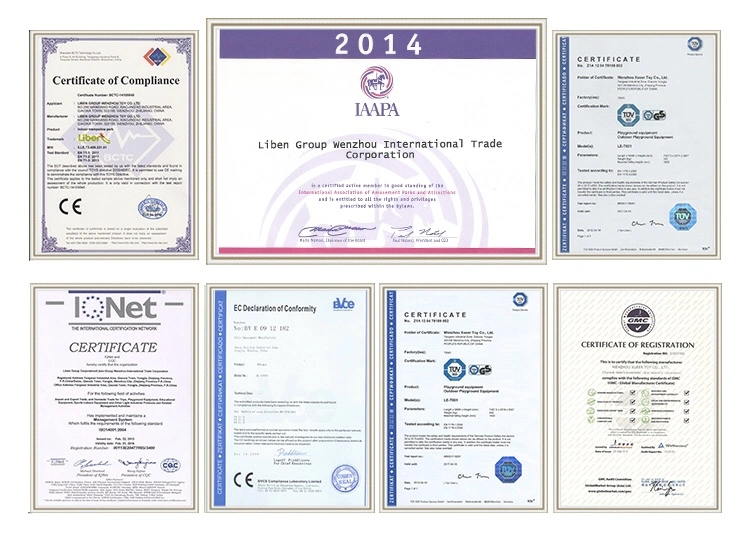 Packing & Delivery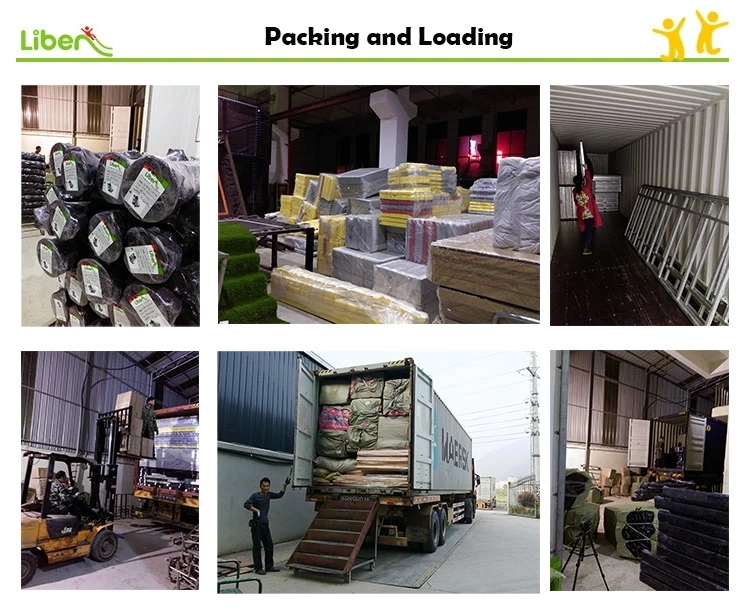 Why Choose Us?
1. Premium Quality for High Reliability
(1)Standardized production;
(2)Specialized management;
(3)Strict quality control
(4)Certificates: ISOI4001, ISOI8000, ISO9001 & GS from TUV Company of Germany
2. Competitive Price
3. Unique Design
4. Excellent Service
5. Solutions for Any Budget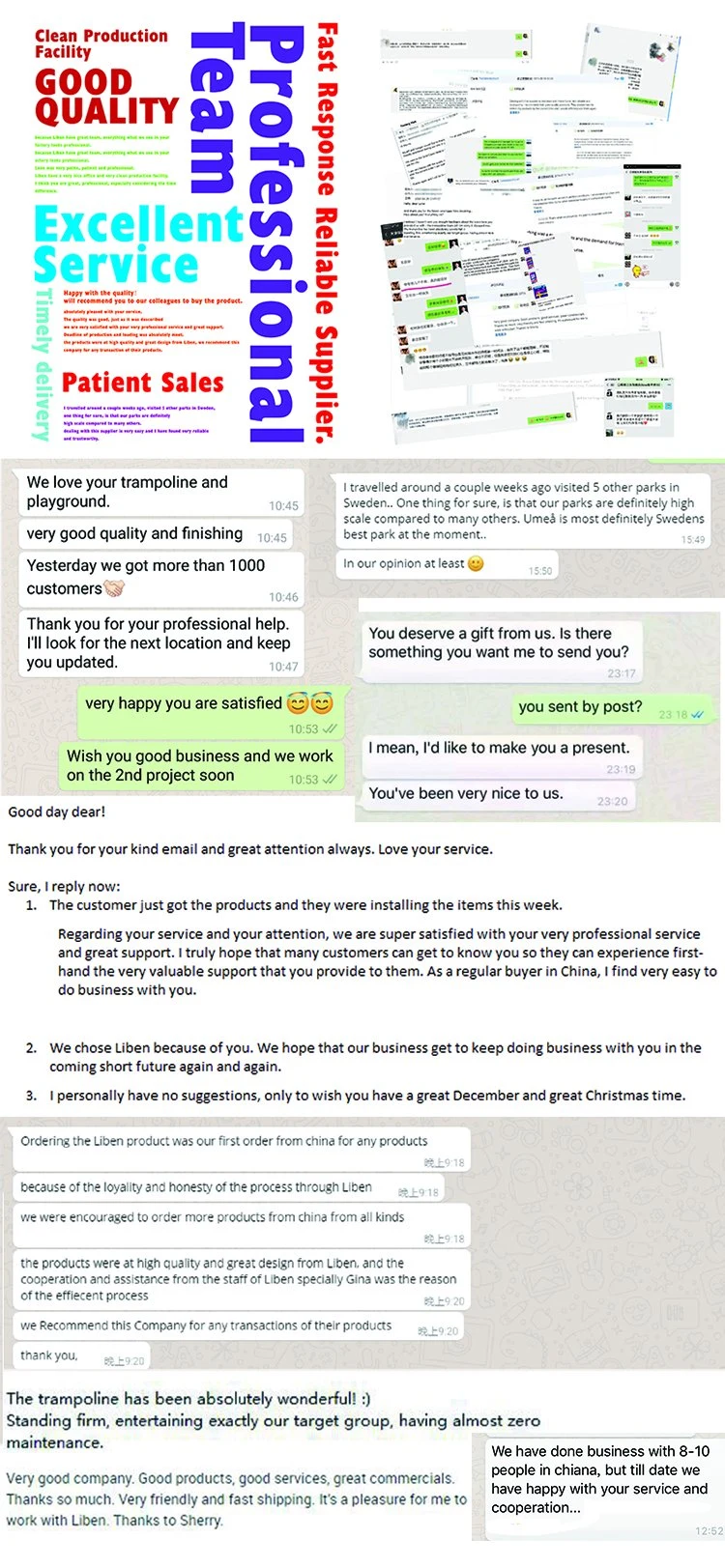 About Liben Play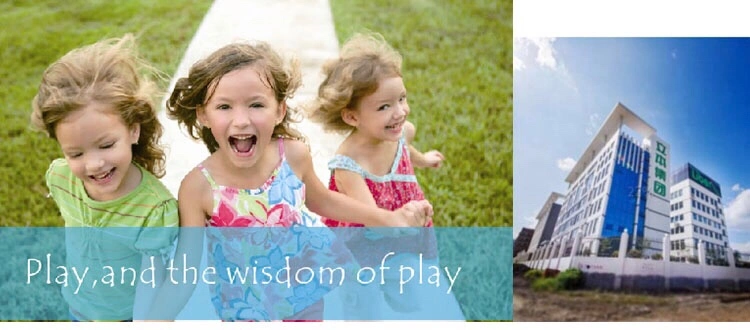 Founded in 2011,Liben Group Corporation is a manufacturer and supplier of products ranging from Trampoline Park, Indoor Playground, Outdoor Fitness Equipment and Outdoor Playground.
We believe in "Play, and the Wisdom of Play."
It is our philosophy to respect children's nature of play and promote the all-round development of children of all ages and abilities.

Promote Healthy Lifestyle for All Ages!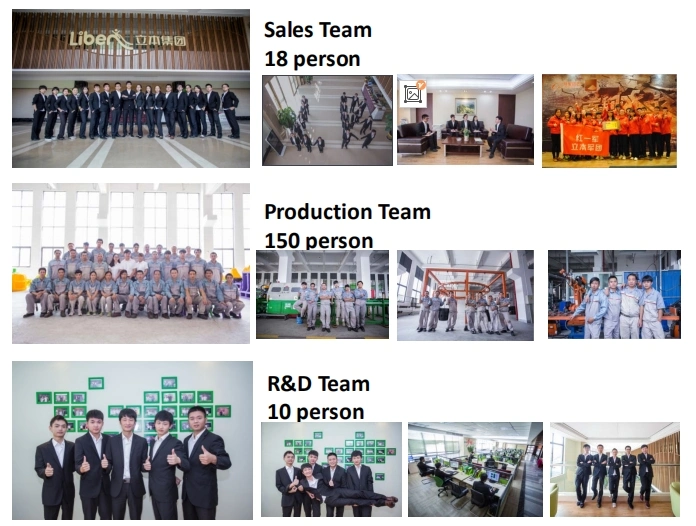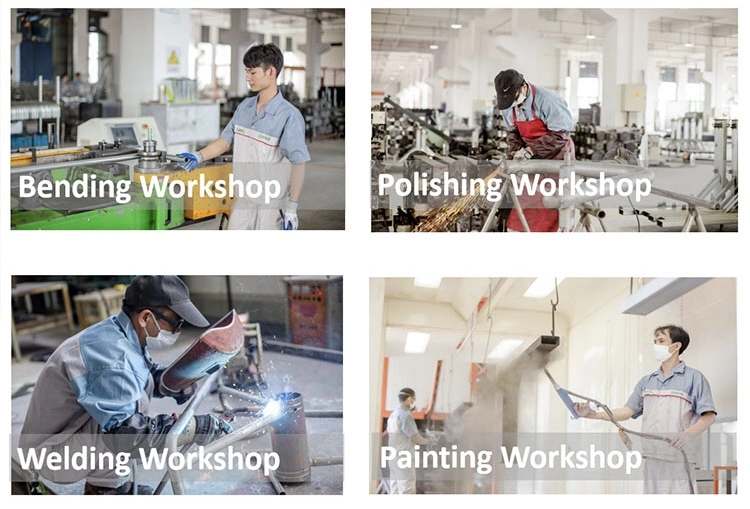 FAQ about the trampoline
1) What is the price range of these trampoline parks?
The price may range from 5K usd to more than 200K usd according to the size and games inside.
2) Is there a separate price for the design?
We'd love to provide design for free for our sincere customers.
3) How long is the warranty?
The service life of the trampoline park is 5 years under good maintenance. Warranty for jumping mats, padding and springs is 1 year, all the rest 3 years.
4) What is the minimum size that we can have for an indoor trampoline?
The size of our trampoline could range from 20 sq meter to larger than 1500 sq meter. We recommend the size of a trampoline park should at least not be less than 300 sq meters, as you know, if the trampoline park is too small, the play value would be highly decreased. I could attach some of our design for your reference.
5)What will my park cost to fit out? Or what cost should be included in my budget?
6)How much space do I require to operate a trampoline park?
7)How long does it take to build the park?
8)Do you provide any ancillary products for trampoline park, such as trampoline socks?
9)What service does Liben offer for creating trampoline park?... ...
looking forward to your message for further discuss :)
For More information,please kindly visit our wbesite: libenplay.en.made-in-china.com